Children and Adults with
Special Needs
We often receive inquiries about the application of Audiblox for children/adults suffering from autism, Down Syndrome, mental retardation, Alzheimers, stroke, traumatic brain injury after a car/motorcycle accident, and deafness.
We have used Audiblox extensively for many years for these conditions excluding Alzheimers. Based on our experience we do not recommend the Audiblox kit for sale on this site for any person (child or adult) with an IQ below 70. Unfortunately there are too many adaptations that must be made to the individual's program, which cannot be done via e-mail. Audiblox is also not suitable for persons suffering from traumatic brain injury, especially not if the brain injury has caused emotional instability. However, if the damage to the brain is only mild and the person did not suffer emotional consequences, the chances for success with the Audiblox kit for sale on this site is high.
Personally, we have not used Audiblox for deaf children, but many schools for the deaf are using it and report good results.
Optimizing Intelligence: Research at a School for Deaf Children
In 1987 Wynand de Wet (now Dr. De Wet), did his practical research for an M.Ed. (Psychology) degree on the Audiblox program at a school for the deaf in South Africa. The subject of the research project concerned the optimization of intelligence actualization by using Audiblox. Read more…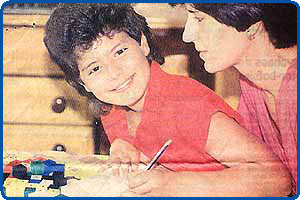 Disabled (10) Learns to Read and Write in 60 Days
"Mom, why can't I read?" Sonja Conradie (10) wanted to know after hearing her younger sister, Marna (9), read and seeing her write. Sonja, who suffered brain damage after contracting meningitis and encephalitis as a baby, could not understand why her younger sister was able to read and write while she was not. Read more…
Teaching Special Needs Children
Santa Lourens wrote, "In September 1997 the Sonstraal School for the Mentally Handicapped was founded. At this stage there were no proper facilities for mentally handicapped children in Nylstroom or its surroundings. The existing facilities also did not offer much help. The children made no progress in the areas of reading and learning, and it became clear that other solutions had to be found. By accident our school heard of Dr. Jan Strydom and his Audiblox program. Read more…
Audiblox Provides Help for a Slow Learning Child
A psychologist determined that Danelle's intellectual abilities fell in the "Mild Mental Retardation" category. He recommended that she attend a special class and later a special school. Danelle's parents, however, decided against special education. Read more…