Dysgraphia: Handwriting Help for Children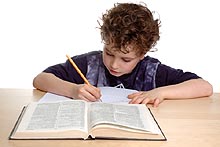 The word dysgraphia was coined from the Greek words dys meaning ill or difficult and graphein meaning to write, and is used to describe a severe problem with handwriting.
Even in these days of the magic of computer word processing, handwriting is a necessary competency. In school, it is the usual medium through which students convey to teachers what they have learned. In many situations, adults also find writing a necessity that they cannot avoid.

Dysgraphia can be identified by the following symptoms:


Generally illegible writing
Letter inconsistencies.

Mixture of upper/lower case letters or print/cursive letters.

Irregular letter sizes and shapes.

Unfinished letters.

Struggle to use writing as a communications tool.

What Causes Dysgraphia?
To understand the cause of dysgraphia it is important to take note of the principle that human learning is a stratified process. This implies that certain skills have to be mastered first, before it becomes possible to master subsequent skills. One has to learn to count before it becomes possible to learn to add and subtract. In the same way, there are skills that a child must have mastered first, before he or she will be proficient in handwriting.
Audiblox is effective in overcoming dysgraphia by addressing the underlying shortcomings that interfere with handwriting performance, such as (1.) poor motor skills, (2.) poor visual perception of letters and words, and (3.) difficulty in retaining visual impressions, caused by a poor visual memory.

The handwriting below belonged to an eight-year-old German boy with severe perceptual-motor problems. His parents started with intensive Audiblox training in April. The second example was taken from his schoolwork three months later.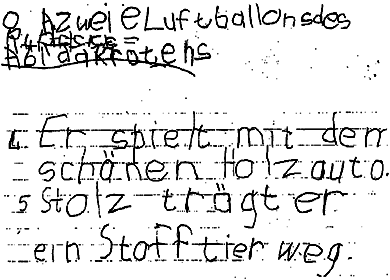 It is important to note that whatever Audiblox program one decides to follow, one would probably see improvement in reading, spelling and handwriting. As an example, see the Audiblox Pilot Study at Keswick, UK. The only form of application that these children did was an exercise called the Reading exercise. They did not do any exercise specifically aimed at spelling or handwriting. Yet, the majority of these children's spelling and handwriting improved too. Nevertheless, it is quite possible to put greater emphasis on specific aspects of learning when it is required, such as spelling or handwriting.
The Audiblox Dysgraphia Program places more emphasis on the underlying shortcomings that interfere with handwriting performance than any of the other programs in the Audiblox kit. Application is done not only by means of the Reading exercise, but also by means of the Writing exercise.
If your child has been diagnosed with dysgraphia, with or without dyslexia (reading and spelling problems), it is advisable to follow the Audiblox Dysgraphia Program. To order an Audiblox kit, click here.