Overcoming Letter Reversals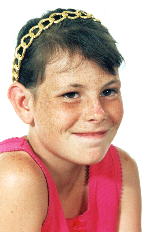 Already in first grade, the Cloete couple realized that their daughter, Melanie, was experiencing learning difficulties. Her teacher's reassurance that the problem would solve itself, never realized. Despite three years of remedial therapy, she merely managed to scrape through every year, and continued to reverse p, b and d when reading or writing.
In third grade, Melanie had a drastic change for the worse. Her spontaneity disappeared, her nerves were on edge and she lacked confidence. Medication and psychotherapy proved to be fruitless.
Eventually a pediatrician recommended Audiblox to Melanie's disheartened parents. Soon Melanie's schoolwork was improving and she passed fifth grade with an aggregate of 67 percent. She read more fluently, the reversals had diminished and her concentration had improved. But to her parents, the most delightful change was the dramatic improvement in Melanie's self-confidence.
Today Melanie no longer reverses letters and has recently passed seventh grade with flying colors.