One-on-one Audiblox Kit for Home and School
Audiblox is a structured, multisensory brain-training program that accelerates learning, improves reading, spelling, writing and math, and is effective for a variety of learning difficulties including dyslexia.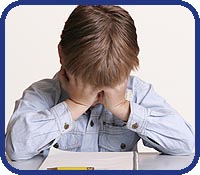 Most of us take for granted the amazing processes that happen in our brains. Every bit of information, every question, and each fragment of sensory input is processed at lightning speed so that we can analyze, integrate, decide, answer and learn.
Struggling learners are often let down by these automatic processes. The ease of understanding new information that should have been normal becomes difficult. Learning that should have been easy is a frustrating effort. Reading that should have been effortless is a slow, embarrassing trial.1 Other problems may include:
Inattention or loss of focus
Reversal of letters and/or numbers
Spelling difficulties
Difficulty with homework
Falling behind in class, sometimes even with special help or tutoring.
In our modern society, where academic achievement is regarded as of great importance, persistent learning failure leads to anguish, embarrassment and frustration. Children may be treated like dunces by their teachers and mocked by their classmates. "He or she could be an Einstein," remarked British actress Susan Hampshire, who is dyslexic, "but if you don't read by your sixth birthday, who cares about your potential! Underachieving at school can be a major blow to the confidence and leave its scars for the rest of your life."
A child who cannot cope in the classroom is also a source of distress to his parents. To see how one's otherwise "normal" child drops further and further behind in comparison to his classmates and perhaps fails year after year, is no laughing matter. Literacy is the key to employment, and what awaits the child outside the schoolgates is often a hopeless future:
Many adults with learning disabilities are underemployed, often stuck in dead-end jobs that do not tap into their true vocational potential.2 Many others are not finding employment at all. Many are unsuccessful in their pursuit of further training, and few are accessing the adult services that have been developed to serve them. Many LD young adults have major academic. . . and vocational needs that make it hard for them to. . . live independent lives.3
Audiblox Can Change All That!
Audiblox is a multisensory cognitive enhancement program that enables learners to overcome learning obstacles and reach their full potential. Audiblox is founded on pedagogical research and 30 years of experience demonstrating that weak underlying cognitive skills — concentration, perception, memory and logical thinking — account for the majority of learning difficulties. Specific brain-training exercises can strengthen these weaknesses leading to increased performance in reading, spelling, writing, math and learning.
Probably the most conspicuous feature of the program is its almost unlimited adaptability. It offers astounding possibilities of development to both the gifted and less gifted child.
To the high school student it can be of very great value, as it develops memory (both visual and auditory) and concentration to a very high degree, while it can also be used for the preschool child from as early as three years of age. Audiblox is an excellent program for the purpose of preparing the preschool child and the school beginner for reading and learning.
Audiblox is indispensable in the remedial education program. In cases of reading, spelling or writing problems, astounding results can be obtained through regular and continued use of Audiblox. A recent, independent study in the U.S. achieved significant and dramatic results in 67 students, aged 5 to 18, with ADHD, dyslexia, dyscalculia and non-specific learning disabilities. Results were as follows:
ADHD (35 students) — 52.45% combined increase:
37.24% pre-test avg/89.96% post-test avg
Dyslexia (13 students) — 46.76% combined increase:
41.31% pre-test avg/88.06% post-test avg
Dycalculia (2 students) — 57.38% combined increase:
39.76% pre-test avg/97.62% post-test avg
Non Specific LD — 64.14% combined increase:
30.40% pre-test avg/94.55% post-test avg
Improvements of as high as 40% in school achievement have already been obtained through the use of Audiblox.
The Audiblox Kit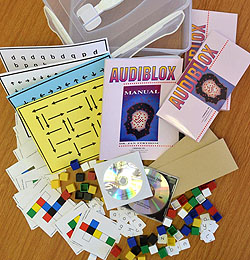 The following materials are required to use Audiblox one-on-one and are all included in the Audiblox kit:
Audiblox Manual
The manual contains (1.) descriptions of all the Audiblox exercises, (2.) the Reading exercise, as well as (3.) seven Audiblox programs:
Dyslexia Program (Standard Program): This program is recommended for learners with dyslexia or other reading difficulties. However, since Audiblox improves far more than reading ability only, even top achievers can benefit from it. While the other programs can also be used for learners who do not have learning difficulties, this program, in particular, is recommended if the learner is of school-going age and improving cognitive skills is the main aim.

Reversal Program: When a learner makes reversals in reading or writing, or has mirror-writing tendencies, it is recommended to start with the Reversal Program. Follow the Reversal Program for 6-8 weeks, and then continue with the Dyslexia Program.

Dysgraphia Program: This program is aimed at improving the reading and handwriting ability of a schoolchild as quickly and as effortlessly as possible.

Dyspraxia Program: This program is recommended for schoolchildren who suffer from dyspraxia.

Spelling Program: This program is applicable for the learner who has no reading problem, but has a problem with spelling. The learner's reading must be at the appropriate grade level and he must be able to fully comprehend what he is reading. If the learner has a spelling and reading problem, this program will not be suitable, and the learner must follow the Dyslexia Program.

Math Program: This program is applicable for a learner who has no reading problem, but has a problem with mathematics. The learner's reading must be age appropriate and he must be able to fully comprehend what he is reading. If the learner has math and reading problems, this program will not be suitable. The learner must first follow the Dyslexia Program, and may only use the Math Program once the reading problem has been overcome completely.

School Readiness Program: This program is applicable for the child who must be prepared for formal schooling.
Audiblox DVD
The DVD demonstrates the Audiblox exercises in detail.
Other Materials
The following teaching materials are also included:
Colored blocks: Ninety-six colored blocks, equally divided into six different colors — black, white, red, green, blue and yellow.

Screen: The screen is used to shield blocks from the learner.

A set of color cards with preprinted patterns: These are used for one of the Audiblox exercises.

Letter cards: These are used to do the Spelling exercise.

A CD containing the Writing exercise.
Features

Audiblox aims at developing and automating the foundational skills of reading, spelling, writing, mathematics and the skills required in the learning of subject matter. The most important foundational skills addressed by Audiblox are:

Concentration;
Accurate perception;
Visual discrimination of foreground-background, form, size, position in space, dimensionality and color;
Visual analysis and synthesis of position in space;
Auditory discrimination of foreground-background, position in time and space, and dimensionality;
Auditory analysis and synthesis of position in time and space;
Visual discrimination of dimensionality;
Decoding and integration of information;
Visual closure;
Imagination;
Visual memory, especially of forms and sequence;
Auditory memory;
Short-term and working memory;
Long-term memory;
Concept of numbers;
Reasoning;
Logical thinking;
Fine motor coordination;
Gross motor coordination;
Sensory-motor integration.

Suitable for all ages.

The Audiblox exercises can be adapted to the intellectual levels of learners.

Smoothly integrates with any curriculum.
Benefits
Prepares a foundation for exposure to and achievement in reading, spelling, writing, mathematics and the learning of subject matter. Learning difficulties can therefore be prevented.

Effective for dyslexia and other learning difficulties.

Accelerates learning and work tempo tremendously.

Builds self-image and motivation for learning through the experience of learning success.

Creates a basis for life-long learning.
The Exercises
The more one practices the Audiblox exercises, the better the results that one can achieve. Competence in any skill comes through practice over a period of time, and this system is no exception.

The Audiblox system is usually effective if a person practices three times a week for an hour at a time, or for half an hour five times per week. Less time is usually needed for preschool children and children with minor learning difficulties, and more time for children (or adults) with severe learning problems.

After six to eight weeks one can expect to start seeing visible results. However, some individuals may require more practice than others to achieve results.

As there is no limit to human potential, the ideal is for learners to continue with the program for as long as possible.
Commentaries

Audiblox opens up new vistas for all those with learning and reading problems. It is based on scientific learning and reading principles that have been researched over a period of years by Dr. Jan Strydom. This explains why Audiblox is being employed so successfully in solving learning and reading problems.

It provides answers to many of the riddles that have been plaguing experts on the subject of learning and reading problems. Scientists from many fields of enquiry would do well to take note of Dr. Strydom's work and should put Audiblox to the test, so that they may also discover its effectiveness. Educationists, educational authorities, and teachers especially should take the new prospects made available by Audiblox very seriously. It offers many possibilities of application in education, because it improves reading and spelling ability, sharpens concentration, develops perception and memory, and enhances logical thinking. It can put innumerable pupils, at present experiencing failure at school, on the road to successful learning.

For the first time there is real hope in the battle against learning and reading problems, not only inside the classroom, but also outside. Dr. Strydom must be congratulated on a revolutionary, brilliant, but at the same time simple and easily applicable program. — Prof. E. J. van Niekerk, University of South Africa.

***

A large number of students are at present experiencing problems with learning. These are evidenced, for example, in a short attention span, in reading and spelling problems, in difficulties with math, in restlessness, etc.

On the causes of such problems there will probably never be complete agreement, but of far greater importance is the question: what can one do to help such students?

Over the past six years I have had the privilege of getting to know Dr. Jan Strydom's Audiblox program. I have referred many students so that they might follow the program, both in individual and group situations. Without exception I was impressed by the positive results that were achieved. A factor that, in my opinion, enhances the value of the program is the fact that such positive results could be noticed in all age groups — toddlers, children, young university students and adults.

The benefits of the program also extend beyond its use merely for the solution of specific learning problems. Also to persons who wish to improve their cognitive abilities — even when no specific learning problem is present — the program has shown its undeniable value. — Dr. B. H. du Toit, Psychologist, University of Pretoria.

***

I have been using Audiblox with 5 of my 7 children for almost two weeks now. The more familiar I become with the program the better I like it. This really is an amazing program. It is simple enough to be do-able — exercises are straightforward, easily implemented with little advanced training or preparation — yet it is brilliant in that I can use it with every age level (pre-K through high school), whether my students are advanced, slow-to-learn, or average (I have all three types of learners), and I can see how we can continue to use Audiblox practically indefinitely as each student is able to do the exercises on a more complex level. Audiblox is also comprehensive, covering reading, writing, mathematics, spelling, not to mention improving comprehension, concentration, memory, listening skills, etc. — Vykie Bennett, Northeast Nebraska.

***

I have a dyslexic boy who is now ten. He is going into Grade Five. He usually ends his year with a fail in reading and writing. Since Grade Two the school has wanted him to repeat his year and I have refused, promising to try to help him myself. We have been through many different programs (at school and at home), with very little results.

We began Audiblox about six weeks before Grade Four ended. His concentration has greatly improved; he actually listens to what the teacher is saying; less clowning in class. He can now actually pick up a book and read on his own, something he never did before. The principal called me to tell me that for the first time my son passed all his courses! He got a C in reading and a B in writing! — Laura Poland-Trudel, Canada.

***

My son John, at the end of his primary school, had a learning problem and found it very difficult to study. He could not spell or write long essays. The headmaster of the school called me in and told me that it would be advisable to place him in a special school and that he would not be able to go into mainstream high school.

I felt devastated and did not know what to do. It is then that I searched and found Audiblox. I came to you for training and John and I started the program. Not only did he remain in high school, but he improved by twenty percent.

In November last year he received his second degree at Westminster University in London and was one of the top students. His first degree he completed in Athens at a private university called Akto.

I am proud of my son, but I am also grateful that we had the chance to have done your program. — Efstratia Agiakatsika, Greece.

***

Dr. Jan Strydom is the lifeboat we all have been waiting for. Audiblox holds wonderful prospects for children with learning problems. The most important rule to remember is that it all depends on you, the parents. It's like going to the doctor if you have a cold. He will give you the correct medication to take but if you don't take it, you cannot blame the doctor if you do not get better. The same with Audiblox.

We started Audiblox on Monday, August 12th, with both our children. By October 7th we had been informed Bronwen had passed. That in a nutshell, says it all. It had taken just 40 days for Bronwen to be on Audiblox. No mention of special-education class. Just a straight pass into a normal third-grade class. Charnell also benefited from the course. In the June exam she got an E for English. In her finals she got a B.

I'd like to take this opportunity to say THANK YOU to you, Dr. Strydom, for sharing your knowledge with us, the parents. Of all the angels, you are the ombudsman. You've made teachers and everybody else involved with education sit up and listen to you. There is no point in remedial teaching. You have to go back and find out just where our children have missed out. Audiblox does this for our children. . . Audiblox holds wonderful prospects for children. You see, God really does answer prayers. —Mrs B. J Horne, South Africa.




For more testimonials, case studies and video clips, click here.
References:
1. LearningRx.com
2. Gerber, et al., cited in H. B. Reiff & P. J. Gerber, "Adults with learning disabilities," in N. N. Singh & I. L. Beale (eds.), Learning Disabilities: Nature, Theory, and Treatment (New York: Springer-Verlag, 1992), 186.
3. Zigmond, N., & Thornton, H. S., "The future of learning disabilities," in K. A. Kavale (ed.), Learning Disabilities: State of the Art and Practice (Boston: College-Hill Press, 1988), 199.